GIF image files have been in existence almost since the internet's inception. They can either be a single image or multiple images that are viewed sequentially to create a video effect. These days, people want to convert GIF file to PDF to contain all images in a single document. However, there are multiple options to convert GIF to PDF but most lead to a decline in image quality. Hence, it is important to make use of advanced tools in learning how to convert GIF to PDF.
Soda PDF is sophisticated software with easy-to-use PDF tools that can be used to edit, merge, and convert GIF to PDF. It has a special feature that can help in converting GIF to PDF while maintaining the quality of the images. With soda PDF, you are guaranteed that the size and shape of the GIF is intact in the converted form. SodaPDF is available accessible from both mobile and PC.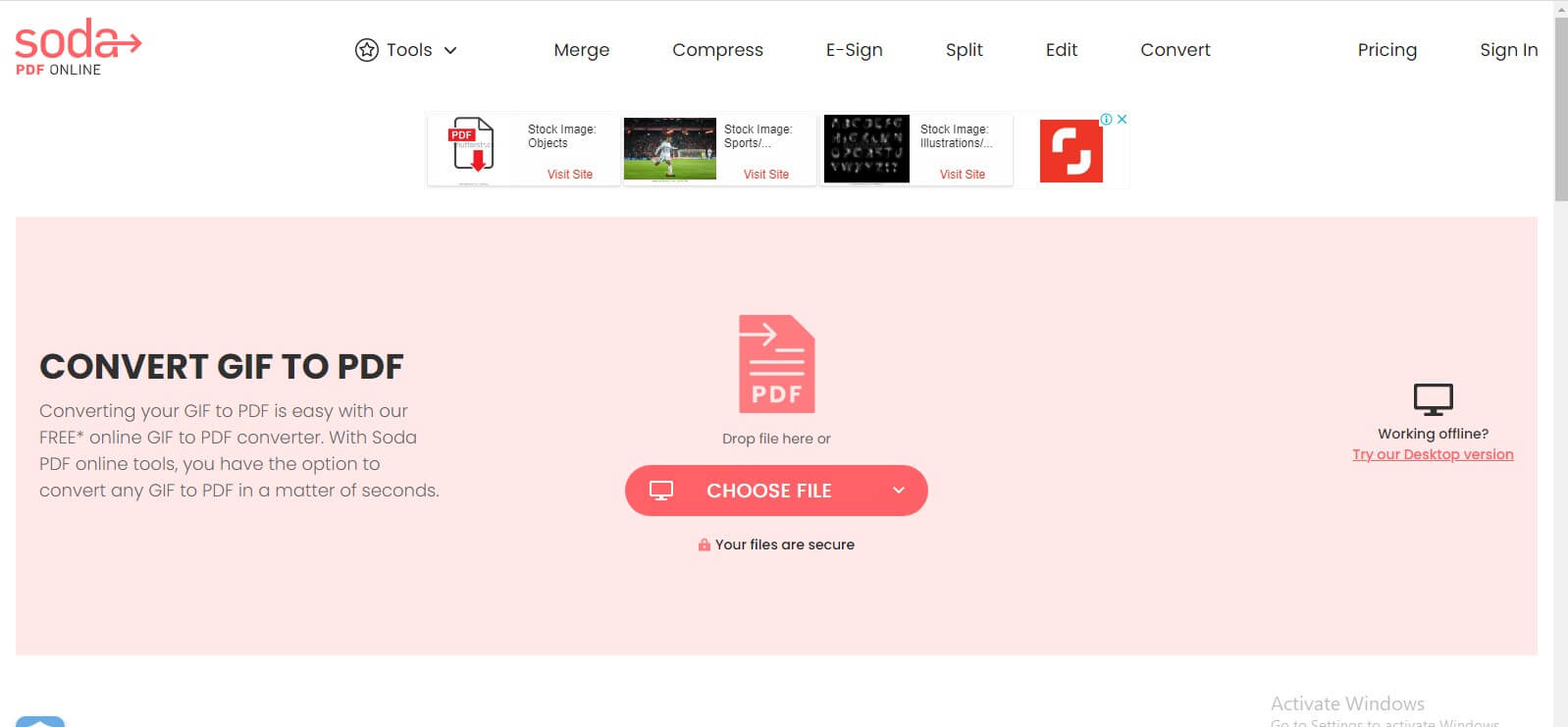 How to convert GIF to PDF using sodaPDF?
Locate the site by clicking on the link above and click on "choose file".
After file upload, the converter will process the GIF file and convert it to a PDF file within seconds depending on the size of the file.
You can download the file directly or save it to cloud storage options they offer.
Accessibility across multiple platforms is integral in learning how to convert GIF to PDF and SmallPDF is perfectly suited for this. With over 21PDF tools on the platform, it offers an advanced tool for GIF to PDF conversion. All of these are backed with a user-friendly interface. They also offer secured processing, large image handling, cloud processing, and optical character recognition for scanned documents.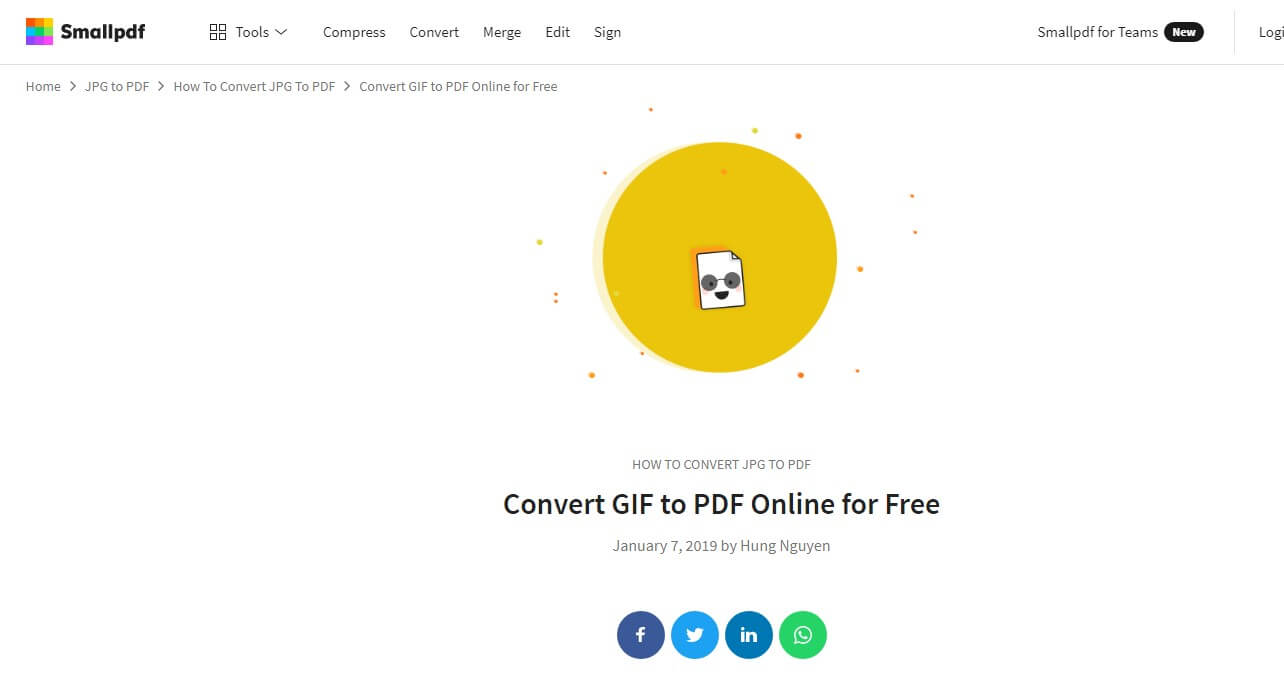 You can change Gif to Pdf online following these steps:
Upload the GIF using the "Upload file" or simply drag and drop the GIF you want to convert to PDF.
You can customize the processing by adjusting the size, orientation, and margins as needed.
Click 'Create PDF', which will start the conversion.
Download your PDF on the result page.
With a simple easy-to-use interface, this is one of the simplest tools to make use of to change GIF to PDF online. VancePDF is dedicated to converting any file format to PDF while maintaining the file data and also ensuring fast and accurate file conversion to PDF. VancePDF provided 20 more features, such as PNG to PDF, split PDF, compress PDF, etc. It would guarantee access to file across all browsers and platforms.
You can use this tool to convert GIF to PDF online by following these simple steps.
Navigate to VancePDF, then select the GIF file you want to convert.
Click on Convert and VancePDF will automatically process the conversion.
After the process, you can download the file.
Using Cloud convert to convert GIF to PDF will make your work faster. It is one of the fastest ways to change GIF to PDF. With a track record of proven success in protecting users data, and a high conversion rate in quality of the converted files, it is definitely one of the best methods listed here to convert GIF to PDF. Also, with over 200 file formats supported, there's hardly any file format that cannot be used on this tool.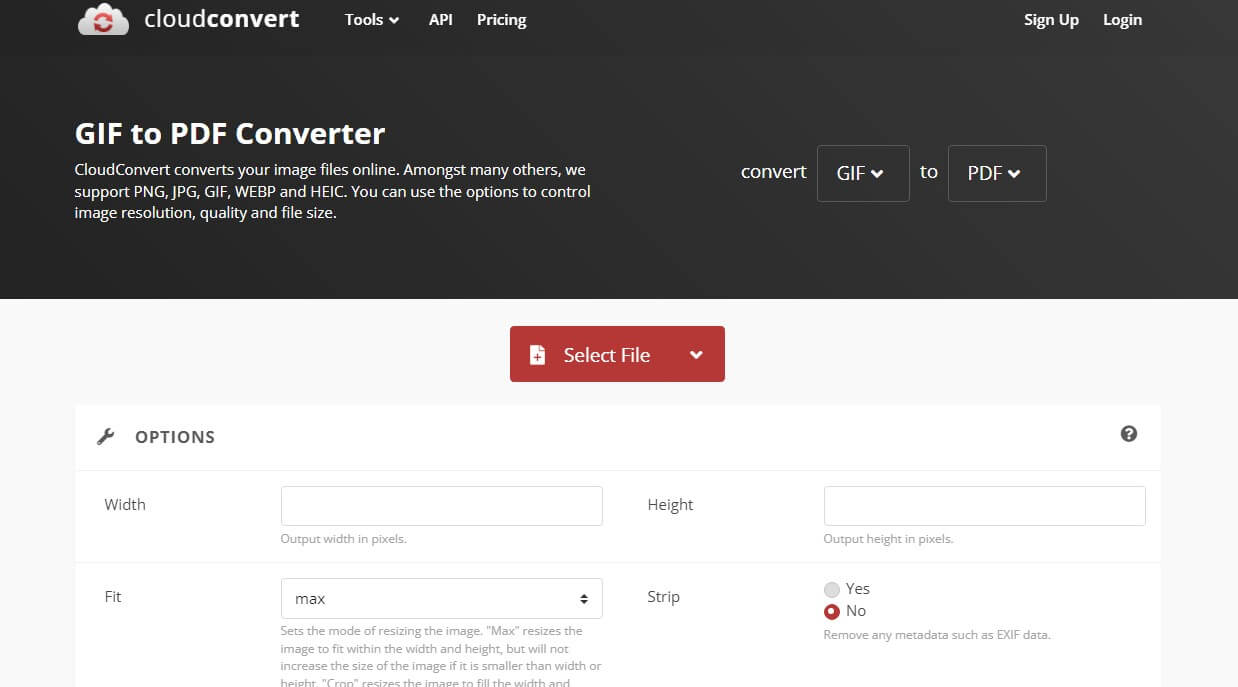 The procedures to convert GIF to PDF online on CloudConvert are:
Access the site using the above link. Then click to "select file" and upload the file you want to convert.
Customize the way you want the output to be. You can change the width, fit, strip and height of the file depending on what your needs are. Then click on "convert" button.
After the file conversion, click to download the PDF file.
Though this tool does not offer the wide variety of options like the others in terms of features and maybe the files supported, it however double-up in its performance. Like the name suggests, it deals with GIF mainly. It can be used to edit, format, convert GIF to PDF with no hassles because of the simple interface. From the list of tools made available in this article, EZGIF has the easiest interface and can be used by anyone without being a savvy.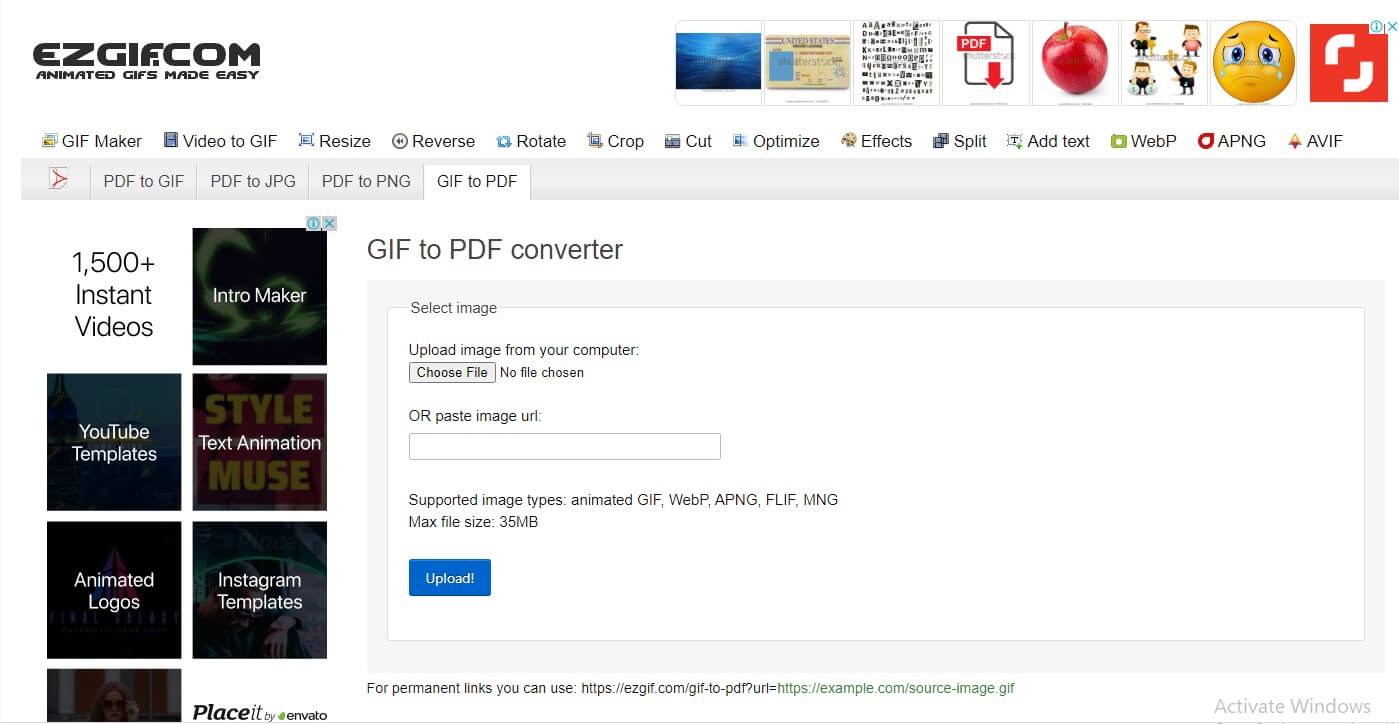 How to convert GIF to PDF using this tool comprises of the following simple steps:
After accessing the site using the link here, select "choose file" to upload your GIF file.
Then customize according to your needs before converting it.
Download the converted file.
This is one of the most advanced tool on this list. HiPDF offers so much more and most especially, if you have the app on your PC, you can use it for offline conversion of your PDF. This tool boasts of cloud storage for conversion, API integration for third party app involvement. Also, you are guaranteed a fast conversion speed. You can change GIF to PDF online with this tool across all devices with internet connection.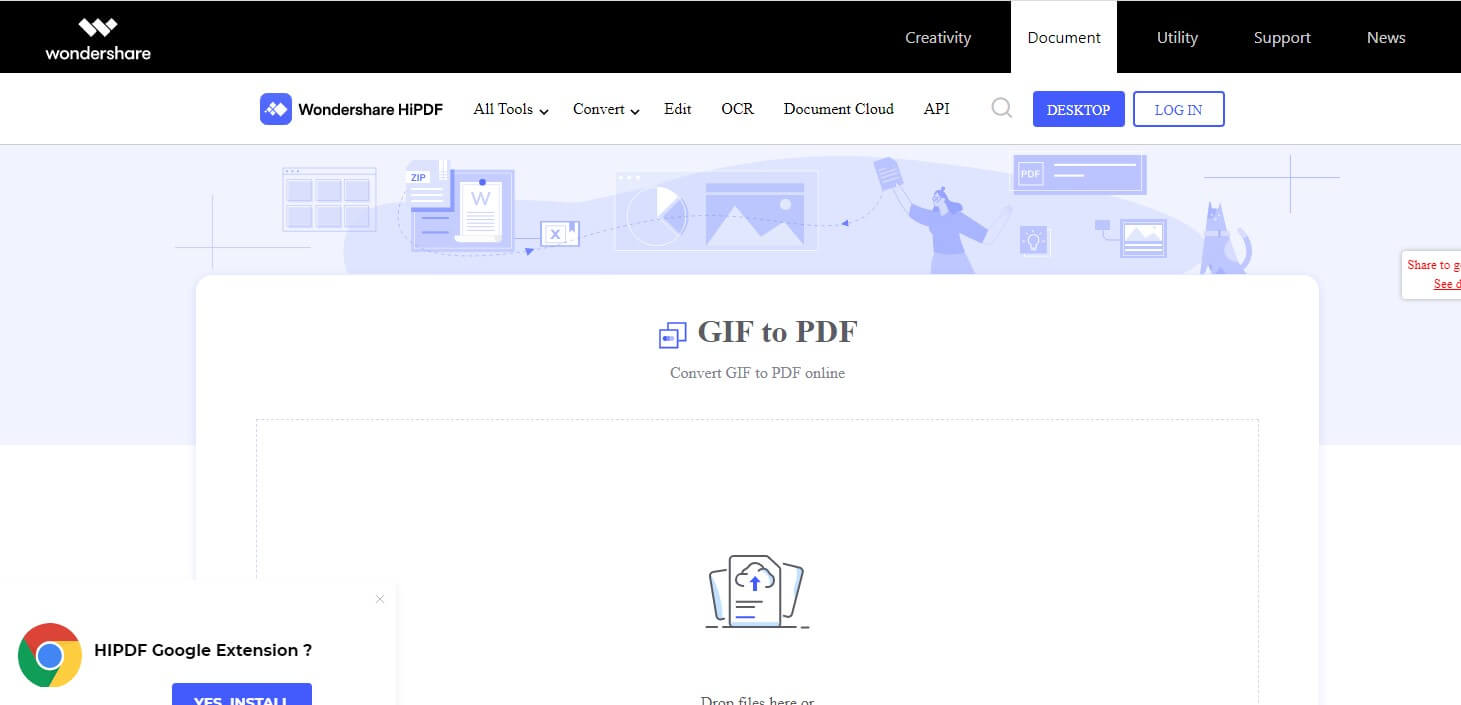 How to convert GIF to PDF using HiPDF:
Import GIF image to convert in GIF to PDF converter online.
Once you transfer the image, start conversion.
Your GIF image will quickly convert into a PDF document.
Click Download button when the conversion is done.
With this online document converter, you can convert your files to and from PDF in the highest quality possible. It supports a lot of different file formats depending on what is needed for. When using this tool for GIF to PDF conversion, you are guaranteed access to a developed conversion technology that will always generate accurate conversion results devoid of any kind of errors.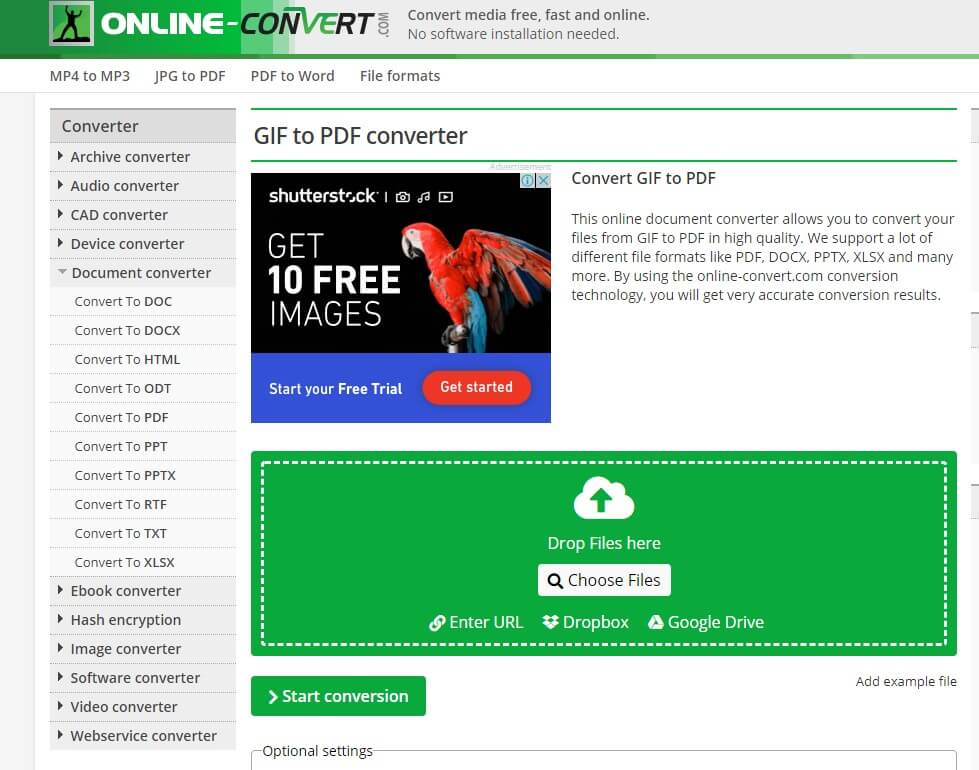 How to convert GIF to PDF using Online Convert:
Choose the GIF file you want to convert
Change and edit the quality or size depending on your need
Click on "Start conversion" to convert your file from GIF to PDF
Download your PDF file
Conclusion
Be it to send as a reply on social media platforms or to use for other reasons, Gifs have always been around and are exceptionally more popular with social media where they pop up everywhere. However, the rate at which the world is evolving towards PDF use is a reason to consider mastering the process of how to convert GIF to PDF. Hence, with the detailed guide created in this article, you should find it a breeze to convert GIF to PDF files online. Further reading: How to Change PNG to PDF in 3 Best Methods.