One way to protect a PDF when created is by adding a watermark to the PDF. This prevents it from being shared unauthorized. When you want to leave your trademark, you add watermark to PDF file. For classification also is why you need to add a watermark to a PDF file.
What are PDF watermarks?
PDF watermark is a text or an image on an existing PDF content that is used to customize the PDF content. On one or more PDFs, multiple watermarks can be added. Watermarks can be added to PDF files with some selective tools such as stated below.
Selective Tools To Add Watermark To PDF Online
Price: Free and Paid ($4 / month & Billed annually as one payment of $48).
iLovePDF is based in Barcelona, Spain. It was created in 2010. iLovePDF is used ease the stress involved in any pdf editing process They offer an accessible excellent device to their client in helping them manage their PDFs. When there is a need to add a watermark to a PDF file, iLovePDF provides one of the best options. They are accessible online and offer free watermarking to PDFs.
Pros:
Offer powerful features
Retains the integrity and quality of your file
Versatile and productive tool
Cons:
It is a paid tool, but it's worth the buy.
Price: Free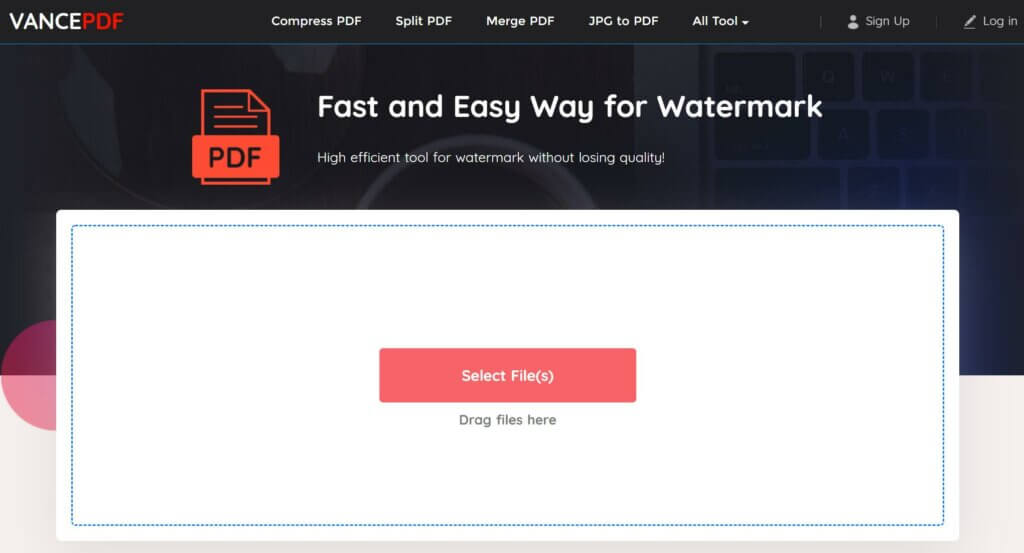 VancePDF makes it all easy to add a watermark to PDF online. There is no need for any special system to be in place before being able to add a watermark to PDF online. This is because it functions under all operating systems of smartphones, tablets, and computers. VancePDF does not store uploaded files for longer than necessary.
Pros:
VancePDF program allows different qualities of PDF to be picked and watermarked.
It has a high conversion speed.
It also has a user-friendly interface.
Cons:
VancePDF has a limited number of fonts. This restricts users to the few fonts available.
Price: Free and paid (Web Monthly $6 per month, Web Yearly $8 per year; $4 / month, and Desktop + Web Lifetime – $99 pay once lifetime license).
When it comes to how to add watermark to pdf, PDF Candy is a practical and very easy-to-use PDF editing tool. PDF Candy retains the data contained within files and it results in little or no modification during conversion.
Pros:
Offers a vast range of features
Gives an explicit description on how to carry out most processes
Excellent for beginners.
Cons:
Tools are not well categorized
Relatively difficult to navigate
Price: Free and Paid (Annual Payment Unlimited Pass -$2.99/month, 1 Week Pass- $4.99, 1 Month Pass $9.99.
On this list, Soda PDF is the first PDF tool to add watermark to PDF files, featuring both on desktop and web-based apps. It gives access to its features on any device with a web browser. As such, you don't have to download an app or a software, you can access an equally functional platform right within the comfort of your web browser.
Pros:
It is free to use
Regular updates
Offers tutorials and guides for new users and beginners
Cons:
Can be pretty confusing without the instructions
Price: Free and Paid (Web Week Pass $5 for 7 days, Web Monthly $7.50 per month 4 Web Monthly, Desktop+Web Annual Save 30% over monthly $5.25).
Sejda comes with an easy-to-use feature that allows users to easily add watermark to PDF free of charge. Sejda can be used both on software and on web browser. It could be an excellent option for you if you don't want to waste time downloading an app to complete the process. The online tool is just as functional as the versions offered on standalone softwares.
Pros:
It has a free version
Fair pricing
Impeccable functionalities
Cons:
Free version is limited
Could be ineffective to carry our multiple task at a go
Most features are paid
Conclusion
In conclusion, to add watermark to PDF file can be an easy task, especially when such tools stated above are employed. Many of these tools are instructional, making them easy to use and they also come free, thereby giving PDF files a trademark and security against unauthorized sharing.
Wanna know more about PDF editing? Check this: How To Electronically Sign A PDF With Adobe Acrobat?