Best 5 portfolio websites to create your own portfolio
1. Adobe portfolio
Pricing: $10 monthly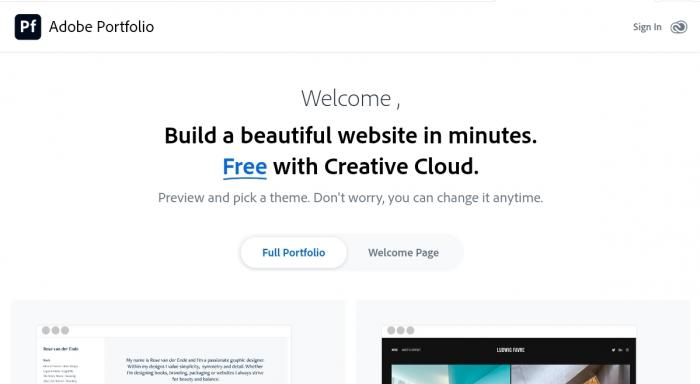 Today, portfolio design doesn't have to be so difficult – you can hammer out one fairly easily with Adobe portfolio. This online portfolio maker has almost everything you need to create a portfolio, instead of trying to figure out how to start from scratch all by yourself. Everything is straightforward, only requiring you to pick a portfolio template and customize it. It also optimizes your portfolio website for any device.
Key features
Custom domain name
Automatic mobile optimization
Free portfolio website templates
Use with adobe creative cloud at zero cost.
Responsive theme
Adobe LR & Behance integrations
2. Canva 
Pricing: $13 monthly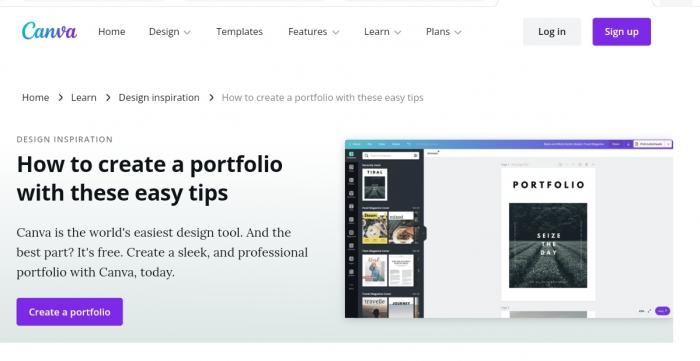 Whether you are a graphic designer or any professional looking to represent their work in the best way possible, canva should be at the top of your list. Not only does the tool have an excellent background remover, and a graphic design feature, its portfolio maker is equally effective. It is well-organized and easy to use even for complete beginners.
Key features 
Intuitive drag and drop editor
Collaboration tools
Straightforward portfolio website creation interface
Boundless portfolio website templates
3. Flipsnack 
Pricing: $14 monthly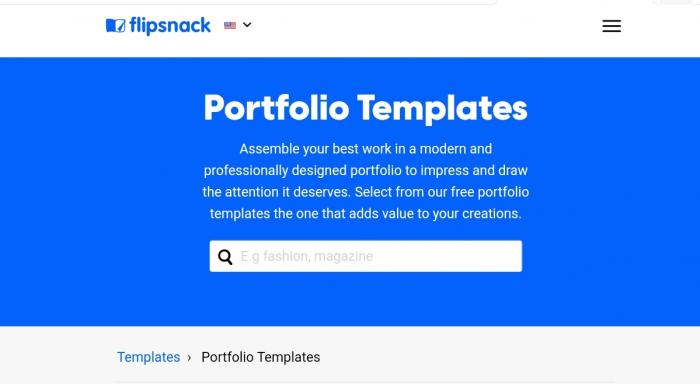 This is a browser-based online publishing tool, allowing you to create reports, newspapers, and of course, a design portfolio. With its attractive portfolio website templates, you can represent your content on a modern and professional portfolio design, ultimately giving you your deserved attention.
Key features
White label technology
Over 190 ready-to-use portfolio template options.
Real-time stats
Collaborating tools.
4. Wix 
Pricing: $8.5 monthly
Wix keeps evolving, and today, we've seen several professionals using it for their portfolio design. It is a free tool, however, if you're looking for more advanced features, there is a premium plan for you. As far as any form of web design is concerned, you can always expect high quality from Wix, considering its versatility and flexibility
Key features 
Artificial design intelligence
500MB free storage
Several different design portfolio template
5. Jimdo
Pricing: $15 monthly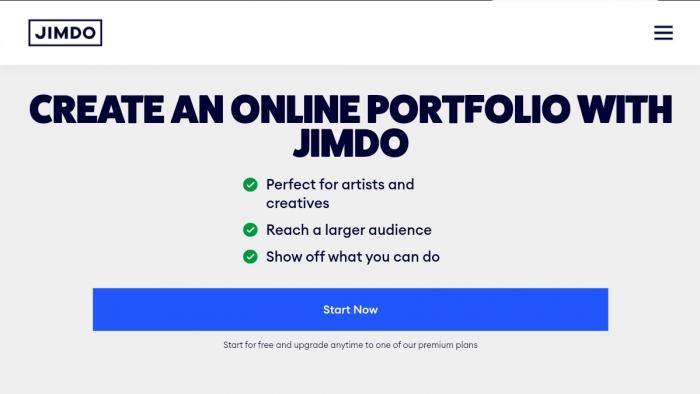 Jimdo offers a fairly quick, reliable, and high-quality solution to almost every website design project you are looking to undertake. It provides you with everything you need for a successful portfolio website with its Dolphin and creator features. With dolphin, you can complete your portfolio design in just 3 minutes.
Key features 
3 minutes portfolio design
Refined tools and functionalities for a high performing website
Relevant integrations for a more flexible design process.
Best 5 portfolio websites to inspire your portfolio design
1. Dribbble
Pricing: $free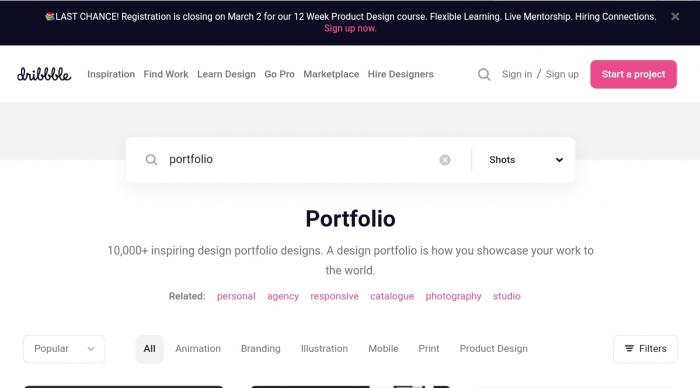 As you probably know, Dribbble is a design community where every creative put out their works for others to see and draw inspiration. Hence, it is one of the best places to draw inspiration from how several creatives go about their portfolio design, ultimately applying them when creating yours. Dribbble extends beyond just drawing creative inspiration but also doubles as a great place to link up with like minds and build connections with potential clients.
2. Awwwards
Pricing: free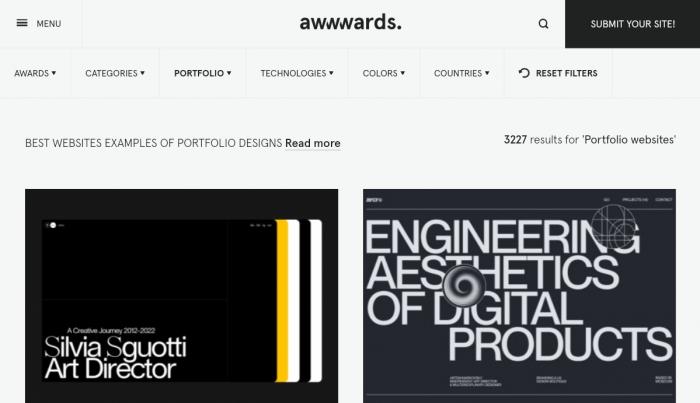 This is a professional web design platform seeking to showcase the best and the most innovative web design examples. It receives submissions from developers across every walks of life. Hence, it remains one of the best and free portfolio websites to draw inspiration get accustomed to innovative practices. In its portfolio section, you can access interfaces, layouts, navigation, and other elements you may apply to your design for the best possible quality of output.
3. Pinterest
Pricing: Free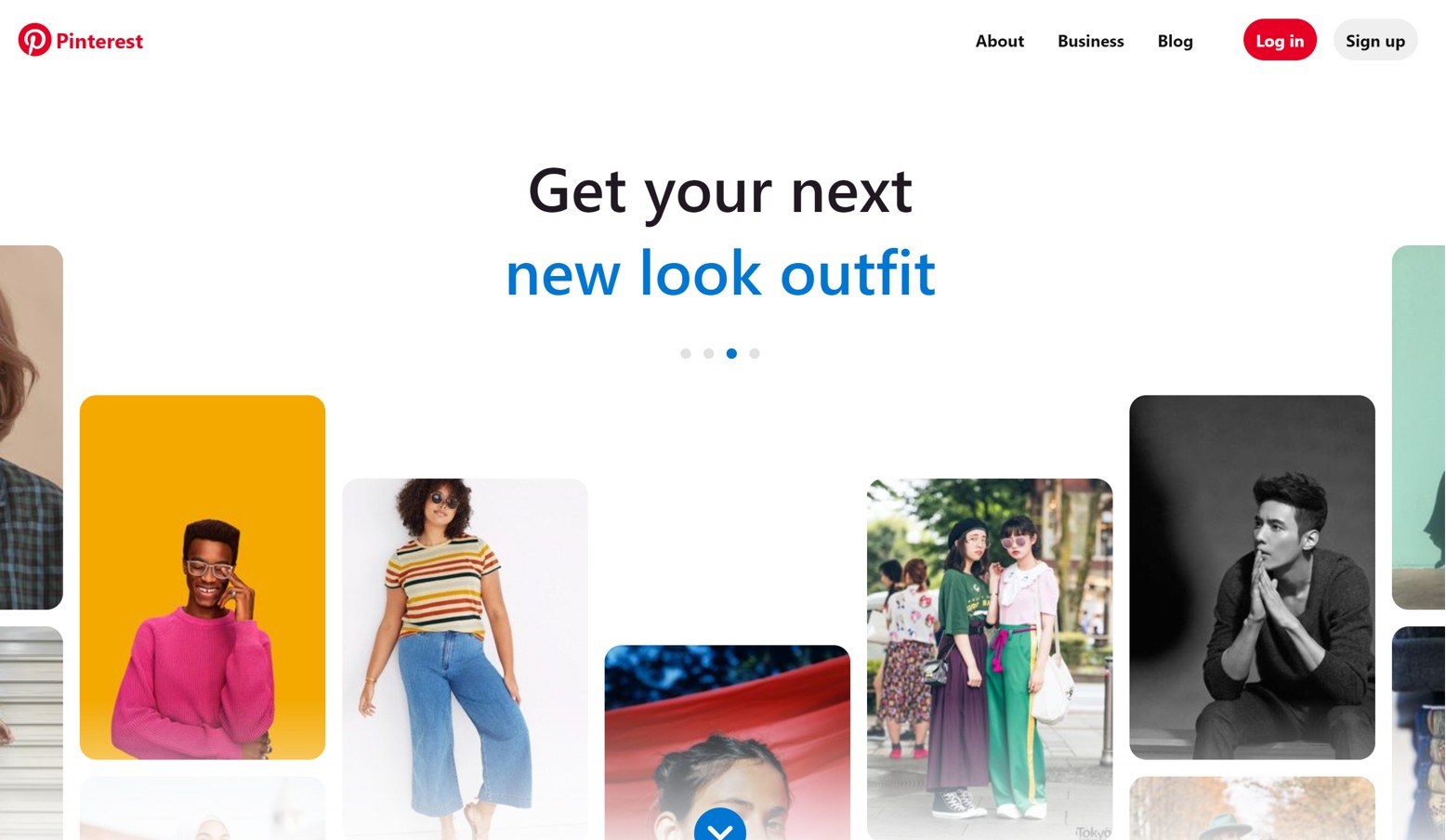 We all know Pinterest as the go-to for any form of inspiration. It has images to help you with almost anything, ranging from DIY inspirations, home décor, minimalist and causal fashion trends, and of course, portfolio design. It has, over the years, grown to be the leading source of inspiration for designers, and developers, whether for graphic design or portfolio design. It has all it takes to help you establish your portfolio websites as attractive and compelling.
4. Behance
Pricing: $14 monthly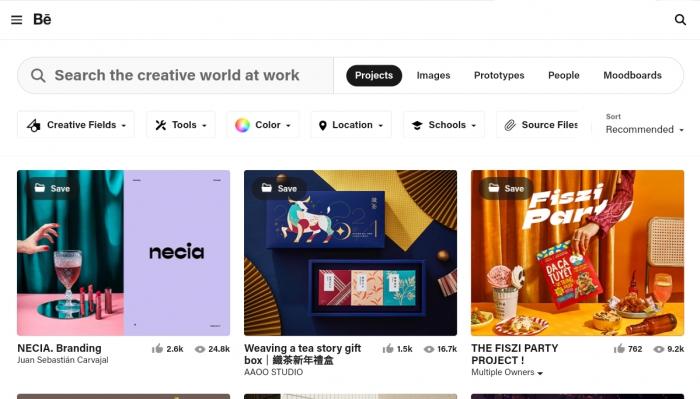 Behance is not your regular platform to draw portfolio design inspiration – it doubles as a great social networking platform to connect with clients, access job postings, view comments, and link up with artists you love. It even allows you to feature in curated galleries, ultimately propelling your works to a broader reach. Whether you're a fresh talent or relatively established, this is a website you don't want to miss out on.
5. Coroflot 
Pricing: free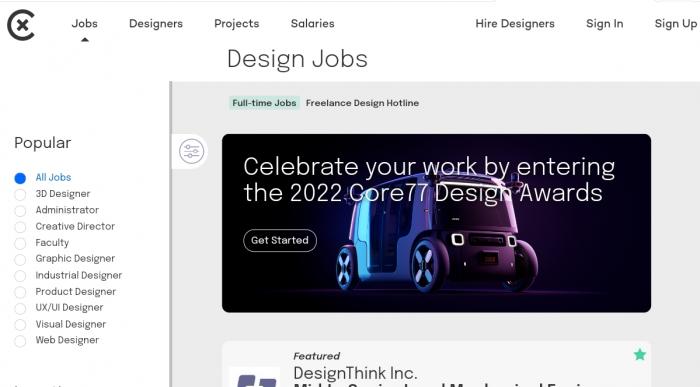 This is pretty similar to Behance and Dribbble. As a designer on this platform, you can create draw portfolio inspirations, design portfolio websites, and showcase your content to a community featuring designers globally. Coroflot doubles as one of the most popular communities for designers with over 150 000 monthly projects published from every creative sphere. It also features job postings for anyone seeking employment, highlighting detailed information on remunerations and duration on its board.
Bottom line
Now, you'd agree that portfolio website design doesn't necessarily have to be difficult. With these platforms, you can start drawing inspiration, and as well, creating your portfolio in no time. Doing this, you also want a tool like BGremover in your arsenal to rectify potential portfolio images that do not suit the brand image you're looking to paint. With all this considered, you should brace yourself- you're about to get overwhelmed with clients.
FAQs
1. What is a portfolio in graphic design?
A portfolio is essentially a way to visually represent every one of your achievements as a graphic designer, also indicating the feats you look forward to achieving going forward. With a graphic design portfolio, potential clients can know you even before reaching out to you via any means.
2. How do I create an online portfolio? 
Gone are those days when you'd have to pay a web developer to create an online portfolio. Today, with any of the tools highlighted in this guide, you can create an online portfolio without stress. In fact, there's a tool that allows you to do all that in 3 minutes.