Today, we are creating some original text content for presenting and team cooperation works, and it is crucial to keep the contents away from tampering with others. Due to the particularity of the plainest form of text file, it only contains line breaks. Hence, converting .txt to PDF seems extremely necessary for keeping its originality. And that's why people invent PDF converters. Well, next, I'll introduce the best .txt to PDF tools for solving this problem. You can convert .txt to pdf without losing formatting with these tools.
Price: Free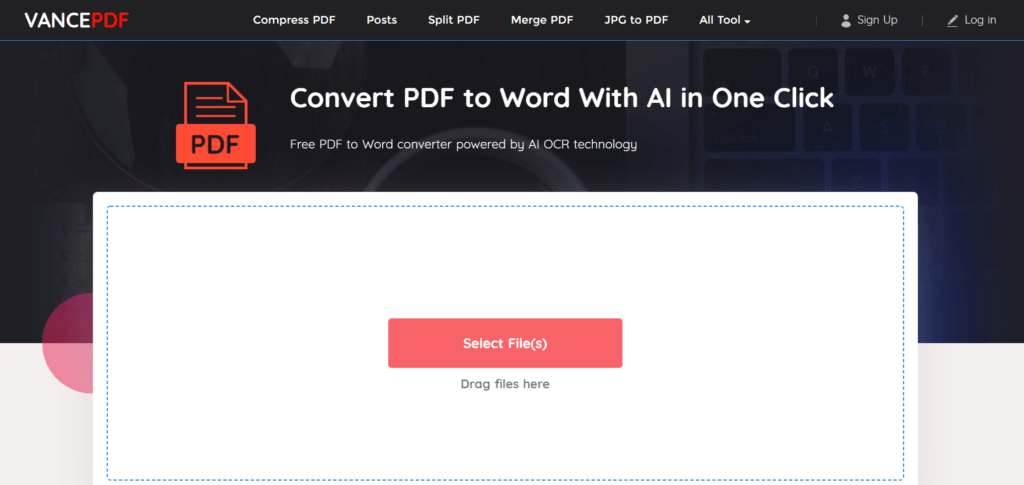 VancePDF is an online PDF converter; it offers high-quality PDF processing services online, so no need to install any software on your computer. You can convert your documents directly online from any platform. It converts your files instantly, and it is 100% free to use. And it offers one-stop toolsets by placing the most PDF tools you are looking for at your fingertips, very concise instruction. Enjoy using this tool to convert .txt to pdf.
Pros:
Easy to use, 100% free, and security guaranteed
Intuitive UI design and powerful AI technology applied
Efficient conversion in seconds.
Cons:
Unclear the maximum file size limitation
Price: Free/ Standard $6.75/ Professional $10.5/ Business $16.75 monthly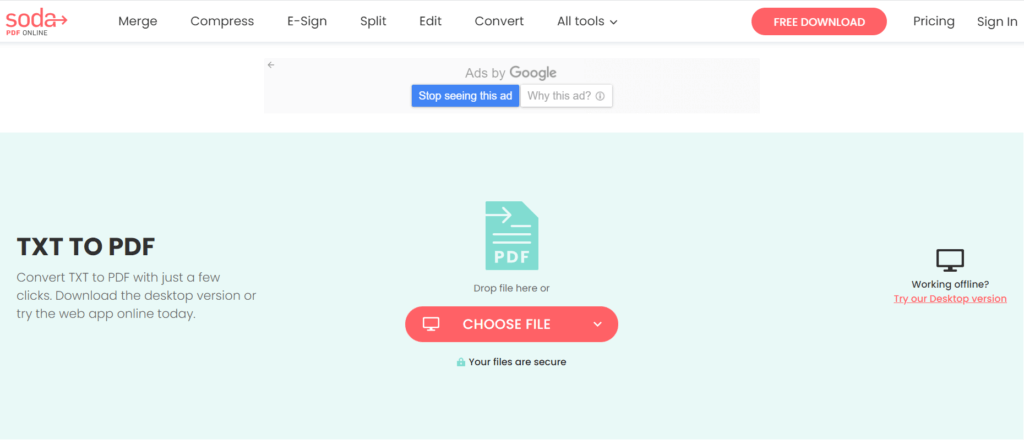 Soda PDF is a fully functional PDF solution available both as a desktop and a web-based app. It is available for download on desktop or mobile, and users can visit features on any device with a web browser, whether from desktops, smartphones, laptops, or tablets. It comes equipped with innovative features specifically designed to increase productivity, including PDF conversion, converting txt to pdf, and much more. SodaPDF is fit for small, medium, and enterprise-level businesses for their document management needs.
Pros:
Cloud integration
Multiple devices to save and download
Provide full-featured services to subscribers
Cons:
 Minimal functions for the free version
 Often discounting.
Price: Complete free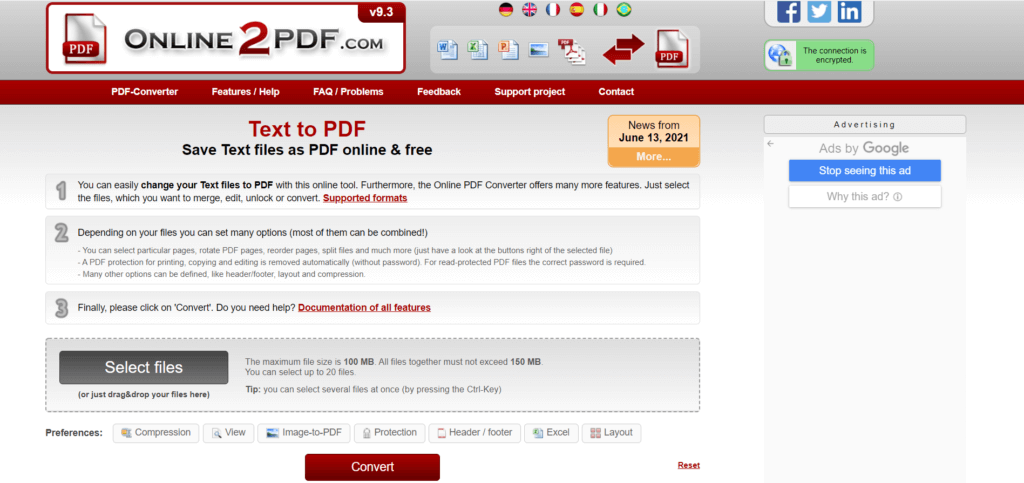 Online2PDF is an entirely free online PDF converter, and it is straightforward and efficient to deal with your PDF documents. There is no software to download or install, and it converts the whole conversion online. Undoubtedly it can convert txt to pdf free. But it only supports small size documents conversion; the maximum is 100MB per file. Indeed, it is not fit for big-size batching tasks.
Pros:
     Completely free
     Very detailed FAQs for answering queries
     Data protection
Cons:
Only small size file conversion is available
The maximum file size is 100 MB, and all files together less than 150M
Price: $7 monthly/ $67 yearly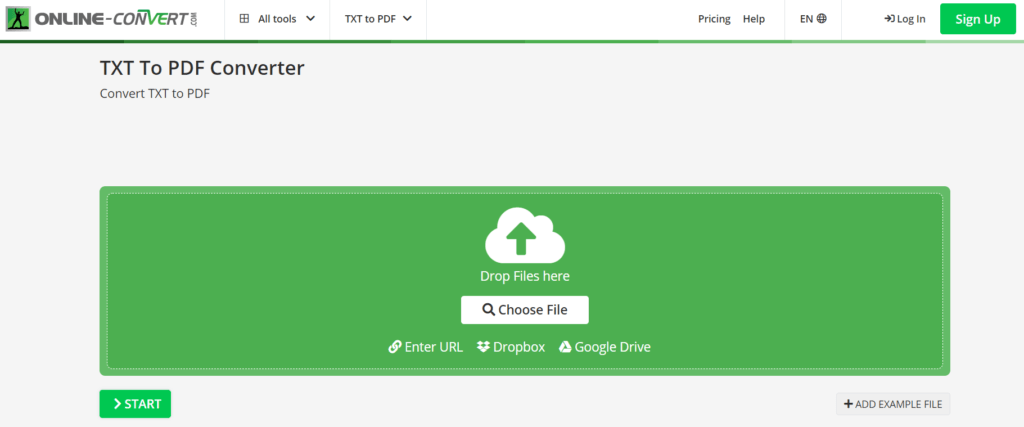 Online-Convert is the brother company of Online2PDF; they both come from QaamGO company which runs software as a service (SaaS) products and launches them successfully to international markets. Online-Convert supports 250+ source formats and converts them to a handful of standard formats. And there is no need to buy expensive software to convert a file. This online document converter allows you to convert your files from .txt to PDF in high quality.
Pros:
Total conversion size 8G
API developer access conversion minutes/day for a paid version
Cons:
Only a few functions in the free version and small size of conversion
Price: $6 web monthly/$48 web yearly/$99 desktop +web lifelong.

PDF Candy provides free online and offline services for PDF conversion work, and it's an all-in-one online tool to manage PDFs. The free version of PDF Candy has a limit of 2 operations. PDF Candy is very suitable for you if you need to manipulate the PDF itself (like add pages, compress, split, combine, convert txt to pdf without losing formatting, etc.).
Pros:
Fast processing and desktop application available
Easy-to-use
Wide range of features PDF
Cons:
Too limited with the free version
Price: $9-$16-$25/ monthly

Zamzar is an online file converter; it allows users to convert files without downloading a software tool, with 1200+ different conversion types available, including document and image formats, audio and video formats, e-book formats, CAD formats, and compressed formats. Converting .txt to PDF is surely easy with it. But its price is a bit higher than other converters, and the conversion speed, size, concurrent conversions, online storage, all the functions are strictly limited to use according to the money you pay.
Pros:
Complete and diverse conversion functions
Suitable for small size file conversion
Huge online storage compared with others in charged version
Cons:
Price: Free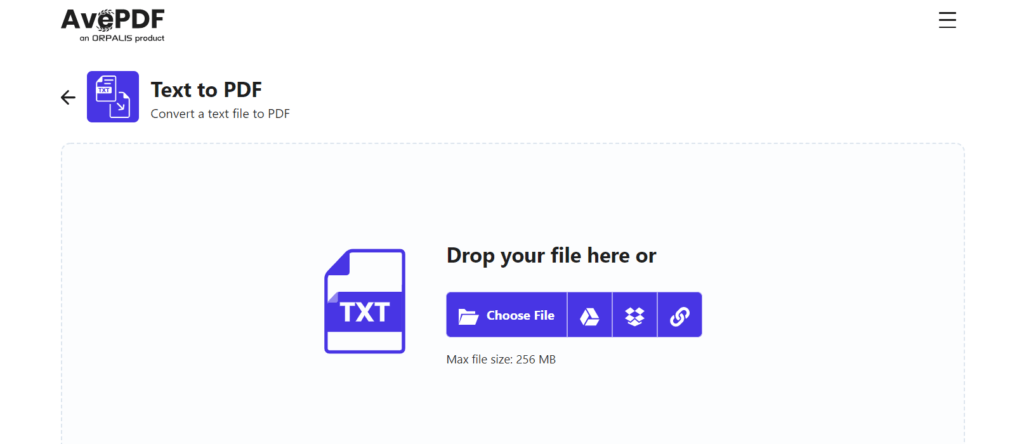 AvePDF is an innovative web application to manage PDF files and documents online fully. It provides sophisticated tools such as las OCR, eSignature, and 40+ others. The highest level of security and confidentiality for any documents processed is what they are to achieve. But temporally, only small-size files suit to use this tool. If you need to convert very big or many files, AvePDF is improper for you.
Pros:
Completely free to use and intuitive interface
Web application
Files safety guaranteed.
New features are added weekly.
Cons:
Limited conversion file size
Maximum size 256M.
Conclusion
After reading this long list of 7 .txt to PDF tools here, have you found the one that suits you best? VancePDF, Online2PDF, and AvePDF are entirely free tools, more suitable for medium size file conversion. Batch processing for huge size files documents, go to Zamar. Well, if you still have no idea which one to use now, try them all! It starts from the free versions and one by one, I m sure you will find the most suitable TXT to PDF tool here.
Also read: How to Change JPG to PDF – 3 Best Ways