Would you like to have the benefits of sophisticated, professional photo editing software without complicated usage? Absolutely. VanceAI has launched its brand new VanceAI API service, which is set to make your photo editing journey effortless, fast, and high-quality. You could be running a business or be an artist. Regardless, this API service is designed with an approach that is inviting to anyone.
Leave the Complications to the Machine
Modern-day photo editing is becoming increasingly complex as well as time-consuming work. While you do require experts for big-budget and crucial projects, there is still an undeniable place for AI-based technology as well. The VanceAI API service offers many useful photo editing features such as image enhancement, photo colorization, background removal, etc. You can make use of these features in a single place with one click and get results within a few seconds only.
VanceAI is an online and offline editing software that consists of a highly active development team that keeps refreshing the software with new updates and tools at a consistent pace. For an individual and a business like yours, you can expect consistent growth alongside VanceAI. Moreover, you can benefit from the affordable prices that are offered for the API. You can receive 500 credits per month with a payment of just $19.9 per month.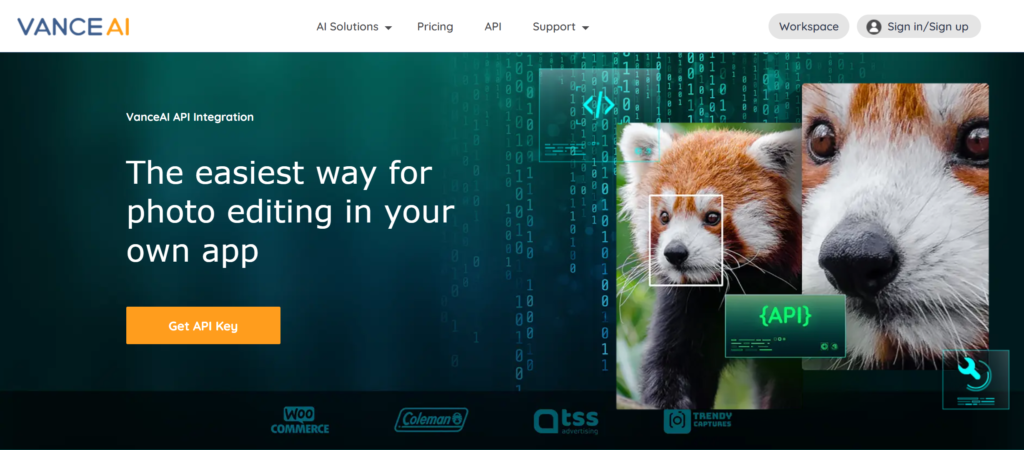 Setting up the VanceAI API service won't take much of your time either. The documentation provided on the official website guides you through the installation process with small and simple steps. In addition to that, you can also get to know the straightforward commands for important tasks such as how to upload images, check the progress, and more. To add further convenience, you could also copy and paste those commands into your software. The codes given in the documentation are in cURL, PHP, and Python.
When it comes to the features and the photo editing that you can do, you have plenty of options. If you want to increase the size of your image while maintaining high definition, simply upload an image to the Image Enlarger tool. Similarly, all VanceAI tools work automatically, since they are powered by AI and Deep Learning-based technologies. You can colorize black and white images and also repair images that have sustained damage, such as scratches, fractures, and similar.
About VanceAI
VanceAI is a photo editing application that makes use of AI technology to deliver stunning results for all users, regardless of their expertise. In this digital age, photo editing is something everyone requires on a daily basis. To have the VanceAI API service is a wonderful asset as it saves your most valuable asset – time.