VanceAI Technologies has recently launched their latest photo enhancement and creation tool named VanceAI Art Generator, which is an AI art generator from text. Given how increasingly popular AI technologies are becoming and VanceAI's focus on AI, this tool is an impressive development. Not to mention that a tool such as this can be immensely useful for various types of users, especially those into content creation, graphic novel writers and designers, digital artists, and more. The AI image generator from VanceAI can enable practically anyone to create absolutely stunning artworks just through a description and a few settings. If you are an artist yourself, you can find plenty of artworks and get a lot of inspiration from AI generated art since it offers you many ideas in a very short amount of time.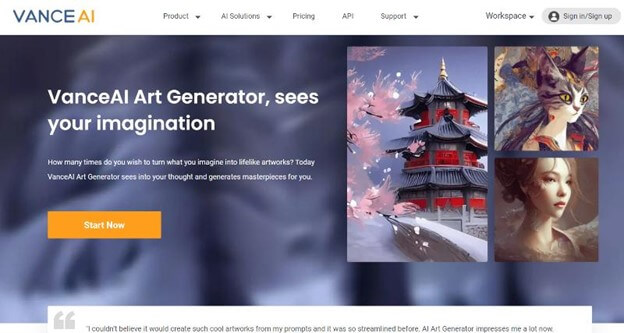 Image Credit: VanceAI
A big asset to the AI Art Generator tool is the website and design of VanceAI itself. The VanceAI platform has only been around for 2 years but has quickly risen in terms of popularity and performance. VanceAI is a website based photo editing and enhancement application that has already introduced more than 15 photo editing tools, which are almost all powered by AI and Machine Learning technology. Due to this, photo editing becomes highly accessible to most users, which also goes for this tool. Pretty recently, VanceAI also launched VanceAI JA, which makes the platform available in Japanese.
How to Use VanceAI Art Generator?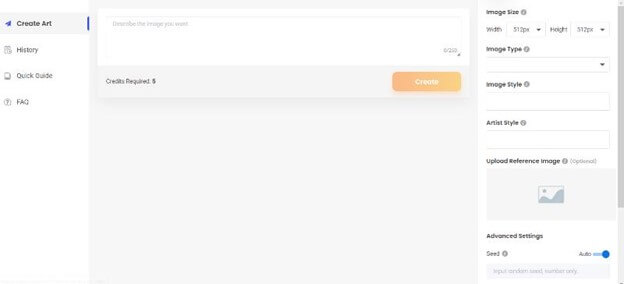 Image Credit: VanceAI
1. When it comes to getting access to any VanceAI tool, you simply have to click on the AI Image Generator given for the tool to get to its home page. Once you have reached the home page, you can simply click on the Start Now option to open up the Workspace.
The rest of the home page can provide you with vital information about the tool and also inform you about some hidden features. For instance, the AI art that you create from this tool is completely yours. The copyright belongs to you and so you can use the images how you want.
2. Once you get to the Workspace, which is shown in the image above, you can start working on your image. As you may have noticed, the textbox at the top is meant to be used for describing the image you want. Now, the description doesn't really have to be highly detailed either. When you click on the textbox, you will see suggestions appear in the blank space below.

Image Credit: VanceAI
3. On the right, there are more customization options that you can play around or experiment with. You can choose the Image Type, which includes options such as matte painting, oil painting, oil on canvas, murals, and many more. The Image Style indicates the conceptual part of the art, such as science-fiction, cyberpunk, unreal engine, abstract, and more.
If you have specific tastes, you can also choose the Artist Style which will prompt the text to image tool to create art similar to the artist chosen. On the same note, it is also possible to upload a reference image for the tool to follow when it is creating the AI art for you. There are further advanced settings below with information given about each option. Click on the 'i' icon to reveal further information.
Result Image and Conclusion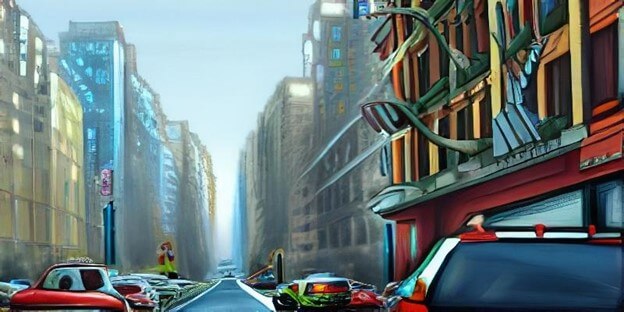 Image Credit: VanceAI
The above example is an artistic showcase of New York with the motif of absurdity attached to it. The AI art generator is definitely capable of coming up with interesting visuals, regardless of the descriptions being complex and lengthy. By following the steps shown in the previous section, you can easily create stunning artworks and boost your own creativity.
Since each image art creation takes up to 3-5 image credits, it is strongly recommended to users to purchase a VanceAI subscription. While creating a VanceAI account gives you 3 image credits for free, it is not practical to spend all of them on the AI art generator as you may have need for other photo editing tools that the platform has to offer. Luckily, the lowest subscription of VanceAI only costs $4.95 per month and offers 100 image credits, which is more than enough.