Flattening PDF is a trend that has been gaining traction, especially in recent years, due to diverse reasons. Firstly, when you flatten PDF files, you can prevent unauthorized modifications as it limits editing. Besides, it also allows you to avoid various print issues as it loads every element accordingly. Not to mention the fast loading time it offers, when you flatten PDF online or offline, you can cut down extra input lengths and minimize sizes.
5 Tools to Flatten PDF
Pricing: $7.5 monthly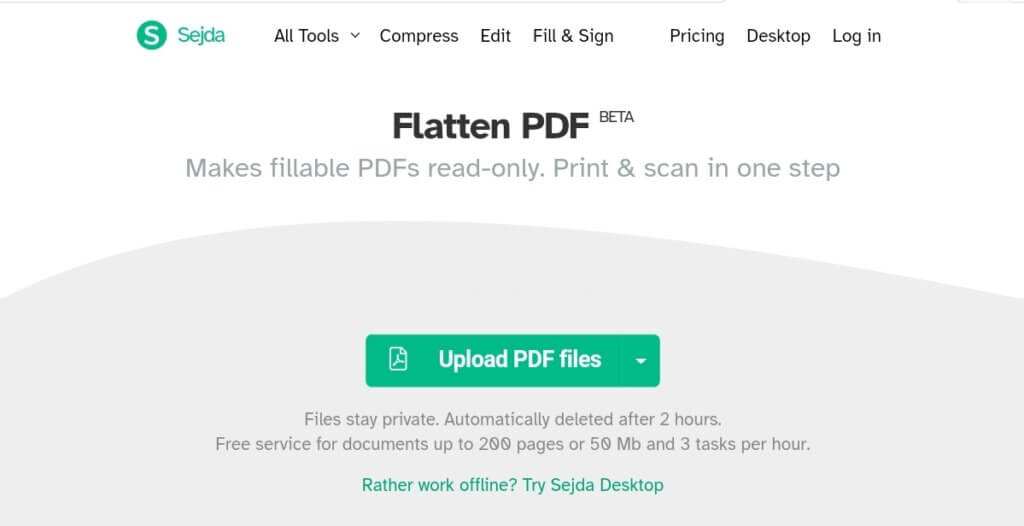 This is an online PDF editor that embodies an immensely functional tool to flatten PDF. It does this alongside several other functionalities, each offering equally excellent qualities. Sejda is entirely browser-based so you don't have to get bothered about installations. Besides, it deletes every document after 5 hours to guarantee its integrity.
Pros
Flexible upload options
No time or page limits
Can edit an unlimited number of files
Cons
The file size is limited to 50MB
Supports only 3 PDF per hour
Pricing: has a free version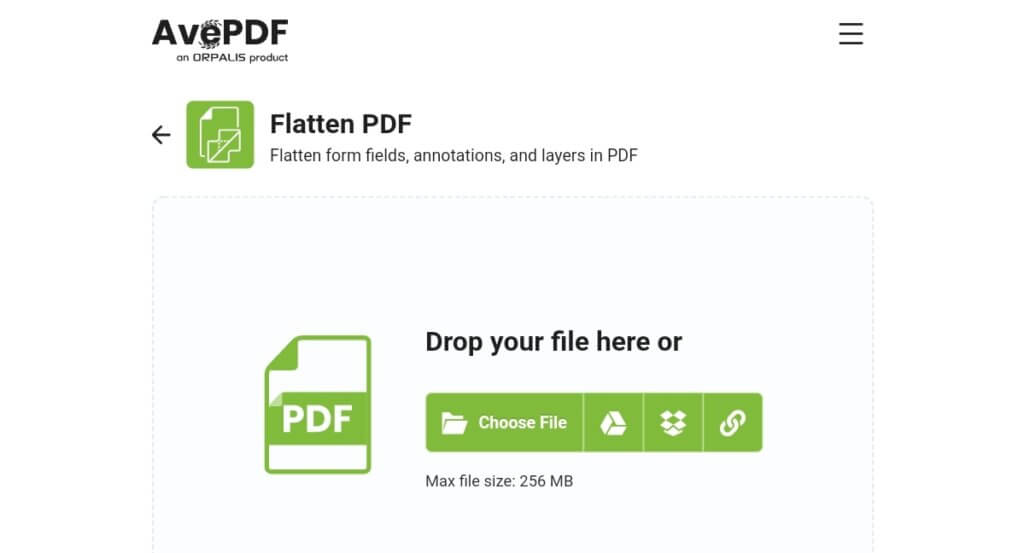 This is yet another functional and innovative web app to flatten PDF online. It has flexible upload options and as well as several other cutting-edge functionalities, allowing you to add images, texts, and well, compress PDF. Even the average Joe who is not familiar with how to flatten a PDF will find this straightforward and accessible.
Pros
Cutting edge technologies for security
Fast and easy to use
Intuitive UI
Cons
Some features are limited by subscription
May not do well with extremely large files
Pricing: Free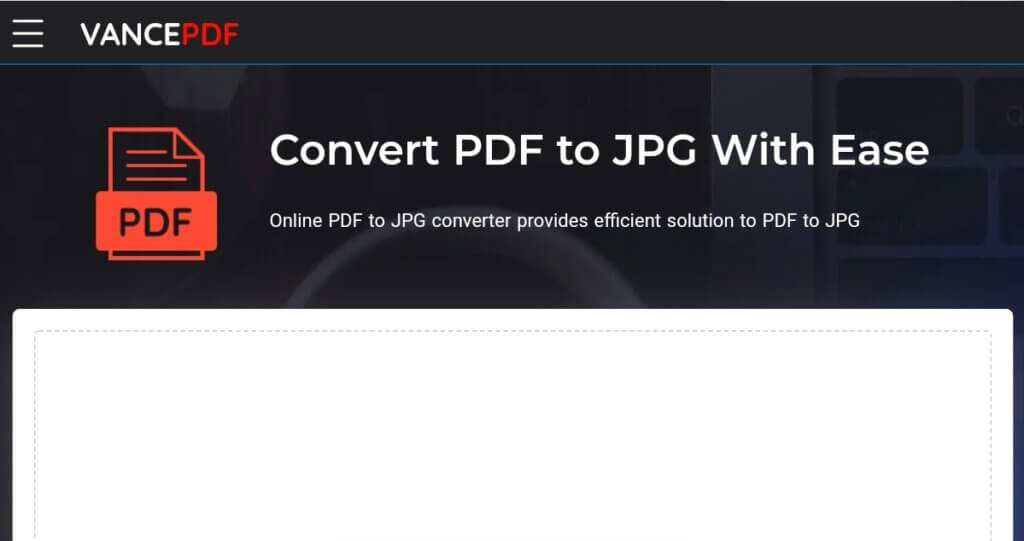 VancePDF is quite a unique tool to flatten PDF. It is a full-featured tool with AI at the core of its operations. And as such, regardless of your processing volume or size, you can trust it to handle them quite well. It works for every platform and operating system, and as well, using cutting-edge encryption frameworks, you can be assured of your data privacy.
Pros
Free
AI guarantees the best quality
Easy to use even without previously knowing how to flatten PDF
Cons
No support for batch flattening
Pricing: Free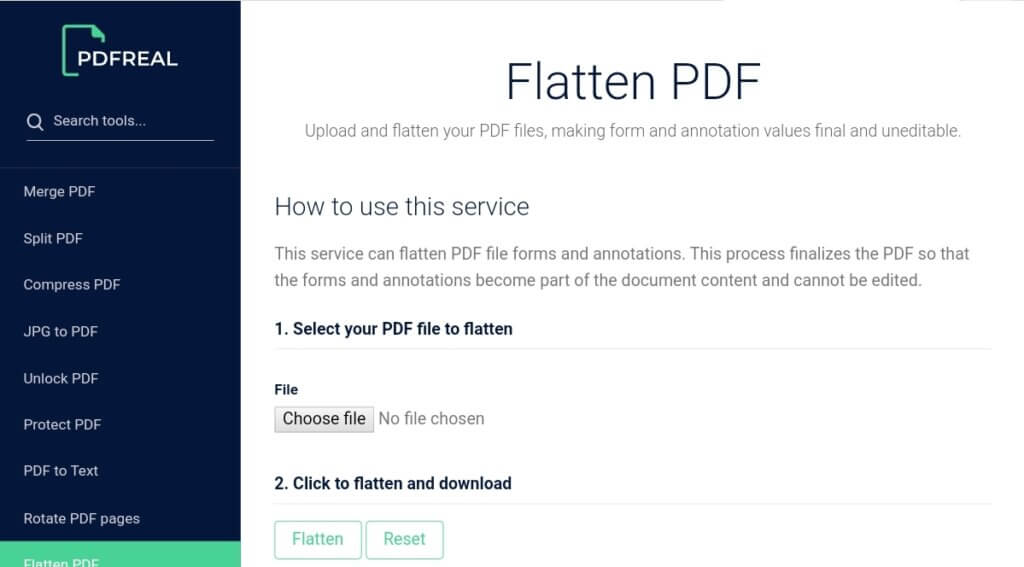 Here is another tool, touted as the best online PDF editor to carry out a range of processes on your PDF files. Not only is it free to use, but you can also complete the entire process with just 3-4 clicks – it's that easy! You don't need extensive tutorials on how to flatten a PDF, neither do you need any installations. It's easy and online.
Pros
Free and easy to use
Simple user interface
Flatten PDF file forms and annotations seamlessly
Cons
Not suitable for sizable files
Glimpses of image distortion on the output
Pricing: Free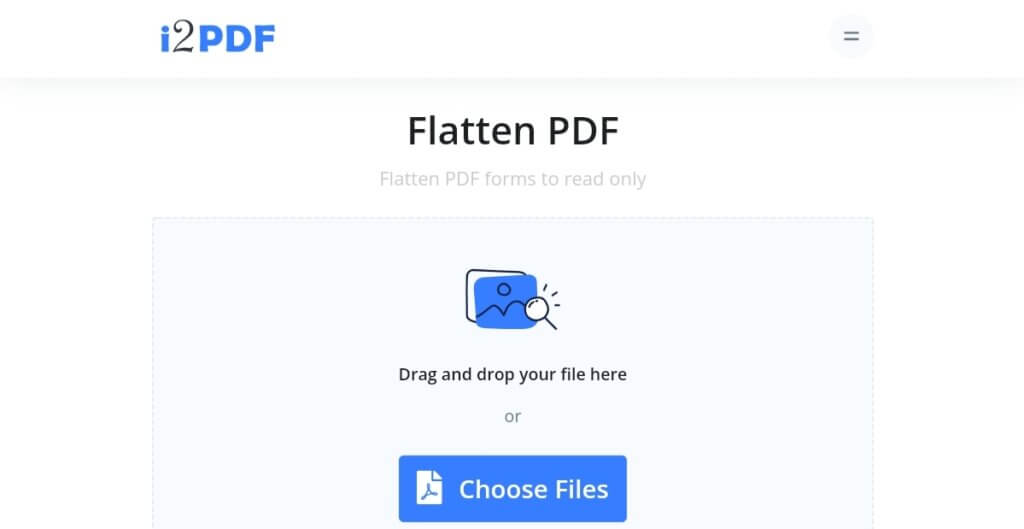 Lastly, i2PDF is an equally functional tool that allows you to manage your PDF files and carry out various processing. It features such an engaging and attention-capturing interface with supports for various languages. Learning how to flatten PDF with this tool is pretty straightforward, and shouldn't take you more than two-three steps.
Pros
Completely free
Multi-language functionality
Easy to navigate
Cons
Output quality depends on PDF size
FAQs
1. What does it mean to flatten a PDF?
Learning how to flatten PDF is essentially learning how to remove several layers of the file, and as such, render a visual equivalent of the interactive components in their static form. Essentially, a flattened PDF is non-interactive and its new elements work almost similarly to how image formats such as jpg work. In other words, when you flatten PDF, you flatten PDF, it's just like you convert PDF to JPG as you are rendering it at the imaging level.
2. Why do you need a flattened PDF?
Having answered what does it mean to flatten a PDF, you may be wondering why it's necessary to flatten a PDF online. A flattened PDF is a great approach to preventing unauthorized modifications to your documents. Besides, it helps to speed up loading time for sizable documents and as well, eliminate print issues in several cases.
3. How do you tell if a PDF has been flattened?
As mentioned earlier, a PDF flattened works similarly to a PDF to JPG converter. Hence, one way to know whether your PDF has been flattened or not is using the highlight function. If you try to highlight the PDF and it doesn't recognize any texts in the documents, then the PDF file has been flattened.
4. Does flattening a PDF reduce file size?
Yes! Flattening a PDF typically reduces the overall file size. However, the reduced size could depend on a range of factors including the information contained within the document and the elements that will or won't be retained after completing the flattening process. Depending on these, the file may drop or may not reduce significantly.
Also read How to Change JPG to PDF – 3 Best Ways.