Luminar AI is an artificial intelligence-based photo editor. This app is a great choice for beginners who are looking for simple editing options. It doesn't have layers or any other fancy features, but it does do simple edits that are easy to understand and apply to photos. In addition, beginners will appreciate the simple controls and intuitive user interface.
Luminar AI is a photo editor powered by artificial intelligence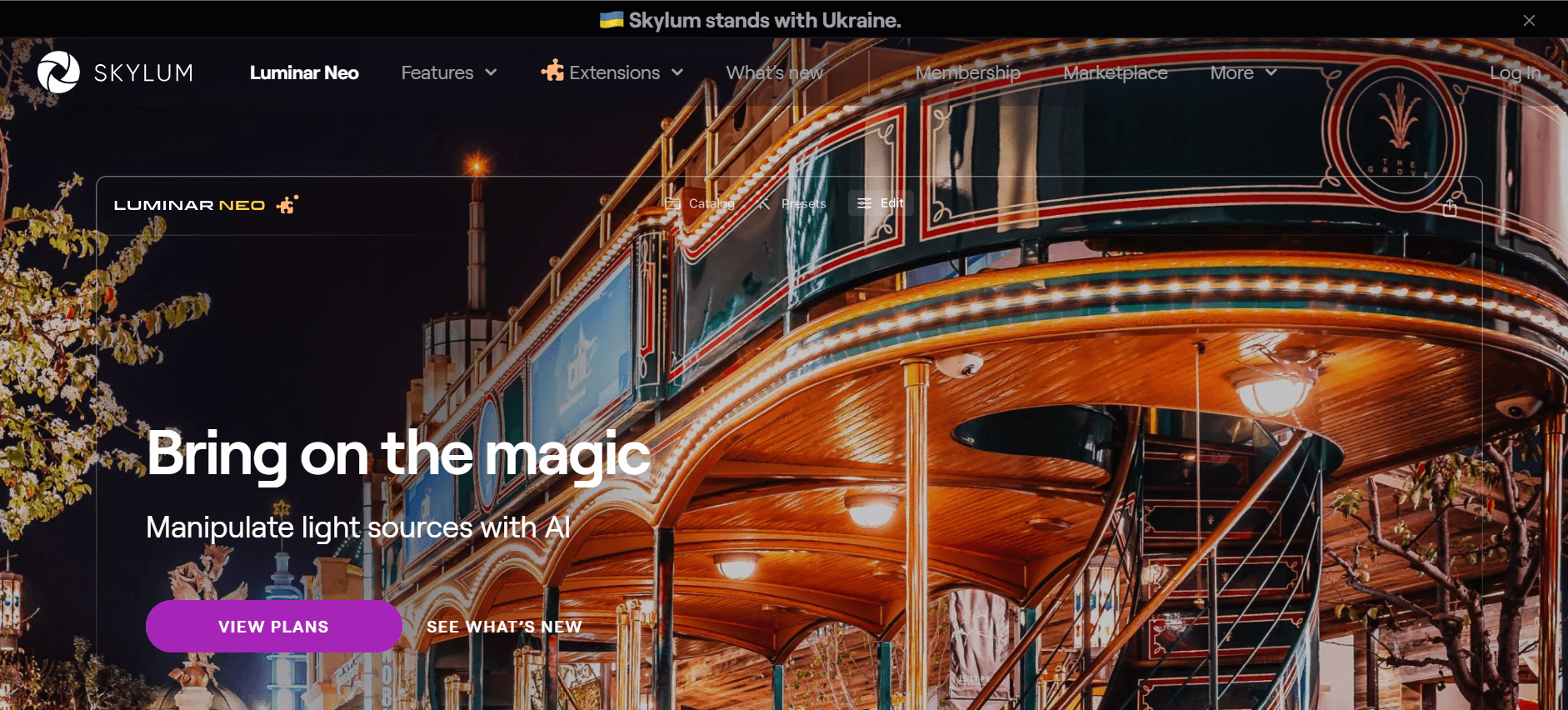 LuminarAI is a powerful photo editor that uses artificial intelligence to improve photos. It can automatically adjust color and exposure and can even crop and straighten photos. It also includes a feature called StructureAI, which applies texture to photos. Users can adjust these settings individually or in batch processing.
Luminar AI has a simple interface, but it offers many powerful editing options. It can change the appearance of the sky or weather, or even remove skin blemishes. It can also selectively sharpen and correct color balance. Luminar is great for amateur photographers who don't want to spend time on editing every single photo.
Luminar AI comes with a catalogue, which makes it easy to sort through your image library and create new ones. You can also browse all of your images in one go, or filter them based on their categories or single edits. It also uses folders to organize images. You can import folders from your hard drive and make changes to them in the Luminar app. It can also make portraits look better. It has tools to change the shape and size of a subject, and a tool called IrisAI can enhance a subject's eyes. The app also provides tools for retouching skin, which is a time-consuming process in traditional photo editing programs. It uses AI-powered algorithms to identify certain elements of an image and then apply the right effects instantly.
The program also includes a feature called Sensor Cleaning AI, which automatically removes minor issues from a photo. It can correct a dirty lens or remove power lines, and even remove a variety of clutter. It also has a superior masking engine.
It can make simple edits
While you might not need Luminar AI for simple editing tasks, you might be interested in the software because it is AI-powered and offers a wide range of features. It is available on both macOS and Windows platforms and offers a large toolkit, including layers. These can help you create detailed images.
Luminar AI is an excellent way to quickly and easily edit your photos, with over 100 AI-powered tools at its disposal. This photo editing software also offers a 60-day money-back guarantee, which means you can try the software out risk-free for two months.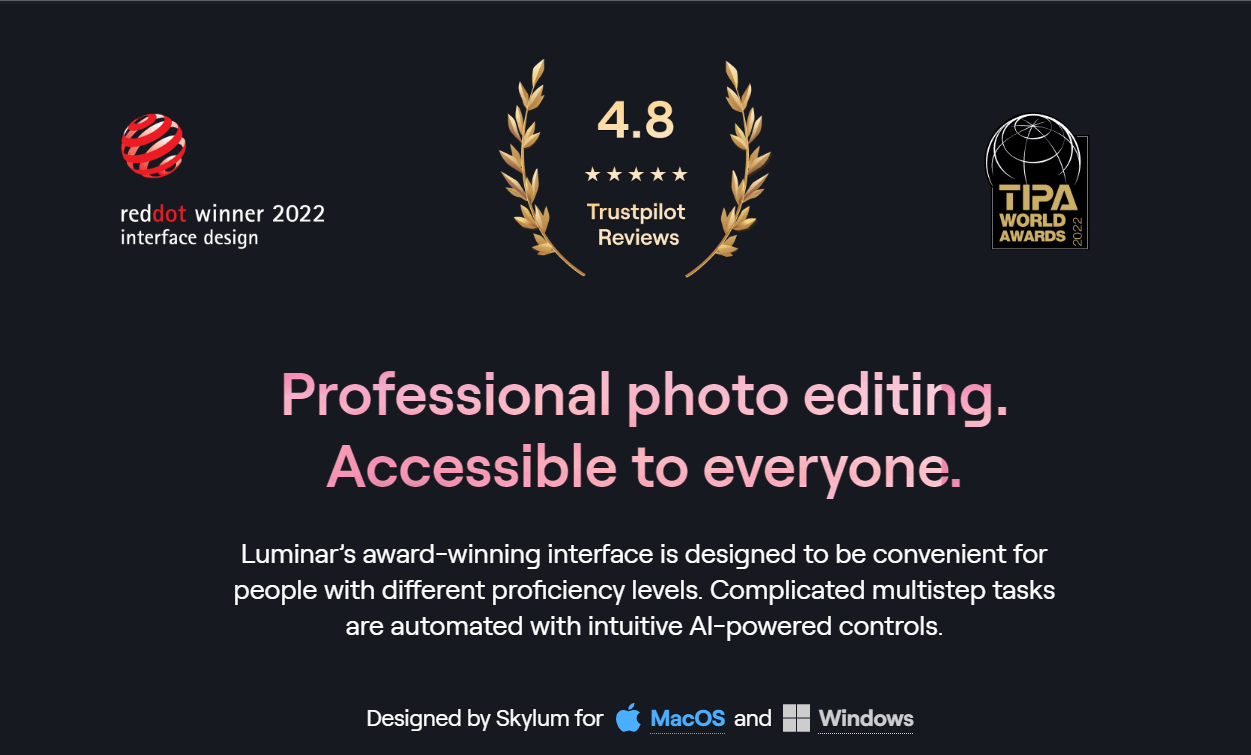 Luminar AI comes with presets that are ideal for beginners. The program also offers additional templates you can purchase. You can even customize these templates and use them on your images. It also offers a Sync Adjustments function, which lets you apply the same preset to a batch of photos.
Luminar AI has several templates that can transform your photographs, while still requiring little input from the user. These templates will detect the type of image you're working on and suggest appropriate editing actions. Unlike the user-interactive interface of many other software, Luminar AI will not leave a noticeable filter trail on your photo.
Luminar AI supports Canon EOS R5 cameras. It has a new icon at the top menu bar, and it offers free updates. However, the software still lacks many advanced image editing features. Color labels and stars, for example, are still not available. In addition, Luminar AI is not an ideal solution if you own more than a handful of images.
It lacks layers
Luminar AI is similar to Luminar 4, but it lacks some important features. For example, it lacks the ability to sort photos by five-star rating, color labels, drag-and-drop albums, IPTC metadata, and a lot more. Luminar AI is a great digital asset manager, but you may want to try Luminar 4 if you want more advanced features. Luminar 4 costs $67 USD for one installation and $89 USD for two.
Luminar AI lacks layers, but it is much improved in terms of its interface, image organization, and editing. It is less cluttered than Luminar 4, and the editing tools are more intuitive. It still lacks some features, however, including advanced blending and post-processing options. It also doesn't have a Lightroom plugin, but it does have a Photoshop plugin.
While Luminar AI doesn't have layers, it does have a variety of presets that can be used to add depth to your photos. This option is great for those who don't have much experience with the editing process. There are also presets that use Luminar filters. A preset can be applied to a photo with a click.
Designed for beginners
Luminar AI is designed for photographers and portrait shooters who are new to photo editing. Its AI-powered features enable you to create incredible images with just a few clicks. Luminar AI is easy to use and has an intuitive user interface. It is especially useful for beginners because it is easy to understand and navigate.
If you're just starting to use Luminar AI, you may want to start with a template first. Then, you can use the Edit tab to apply the template to the image. Once you have a template, you can experiment with the various settings. You can also see how the settings change as you change them.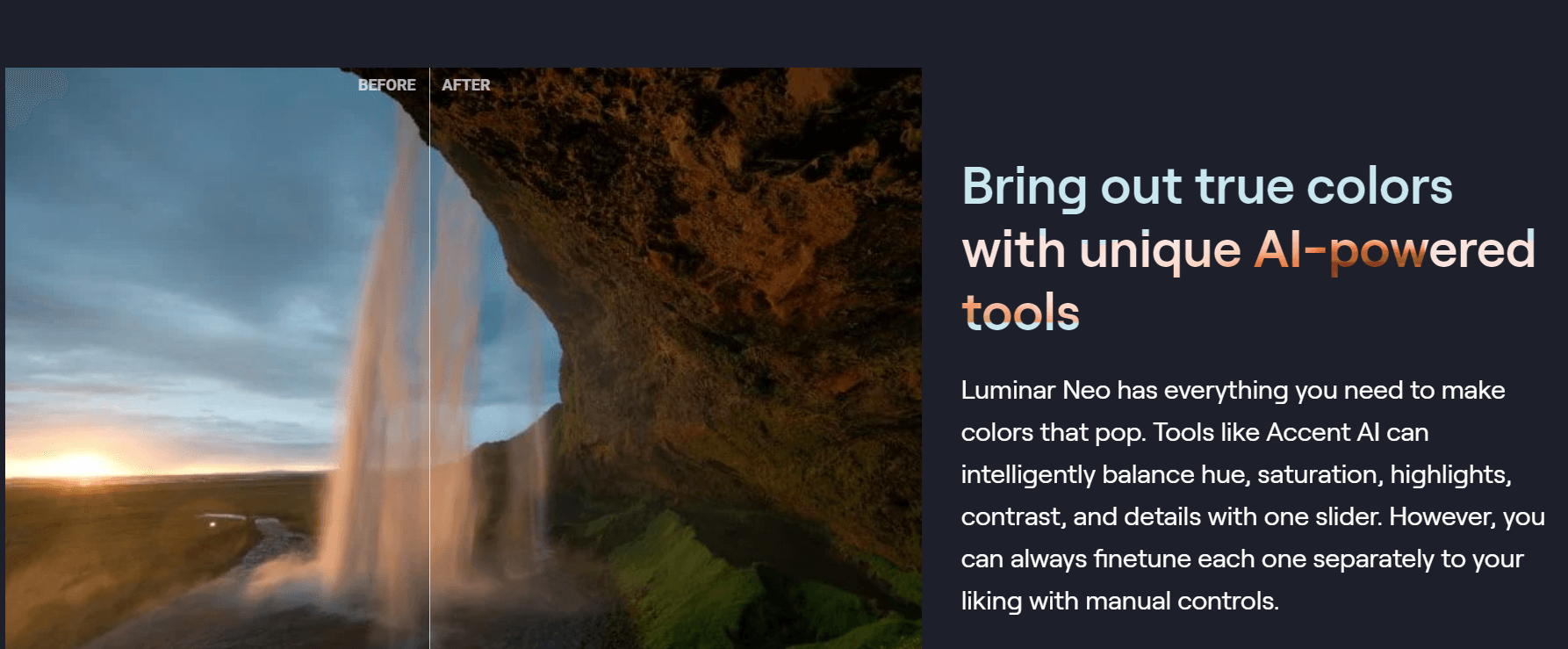 There are many useful features in Luminar AI. For example, you can adjust the exposure of one side of the photo if the other side is darker. This is especially useful when you want to shoot landscapes where the sky is brighter than the ground. Also, you can use the Dodge & Burn tool to add depth to photos.
Another major feature of Luminar AI is its ease of use. As a result, even non-technical users can use it. The options and controls are similar to those of other photo editing tools. But this software offers more benefits than most of them.
It's easy to use
The Edit tab in Luminar AI has four tool tabs. Each tool has a different icon. The Edit tab nests the menus and settings in a logical fashion. The LuminarAI editor also has a large number of presets you can select, including some that are custom-made by professional photographers.
Luminar AI is extremely easy to use and comes with a surprisingly simple learning curve. As the name implies, it works by automating manual processes. The program also supports RAW files. This means that it is compatible with a wide range of camera models. If you are familiar with Lightroom or Photoshop, you won't be confused by the Luminar AI edit menu.
Another great feature of Luminar AI is its ability to relight your photos. This feature helps you create realistic-looking skies. The tool can even detect the presence of water and merge a new sky into your photo. It can make a daytime landscape appear like a sunset. While it does have many features, it doesn't offer enough editing options.
conclusion
The app can be very useful for landscape photography. The app features several landscape-centric AI tools that enhance the landscape. For example, Sunrays adds a new source of light to your photo. You can control its position, warmth, and glow. Other landscape-centric tools include the Foliage Enhancer, the Golden Hour slider, and the Dehaze slider.
The imaging engine in Luminar Neo takes around two seconds to analyse a photograph. Moreover, making changes within the same tool takes just a few seconds. The software does show a spike in CPU usage in Activity Monitor, but it dissipates quickly. These spikes do not affect the stability of other background applications. However, they may be the cause of occasional crashes.